Many Democratic presidential candidates support policies like Medicare for All, the Green New Deal and Universal Basic Income. But what do Americans think about those proposed initiatives? According to new Job Creators Network and ScottRasmussen.com Weekly Pulse polling, a strong majority of Americans believe these policies will result in ......

The death of Jeffrey Epstein highlights an important reality underlying 21st century American politics. Just 36% of American adults believe the official story that Epstein committed suicide. A ScottRasmussen.com national survey found that 30% think he was murdered while 34% are not sure. As if that skepticism isn't enough, 9% think it'......
Scott Rasmussen's Number of the Day
Want more? Check out NOTD on BALLOTPEDIA
Scott's Latest Video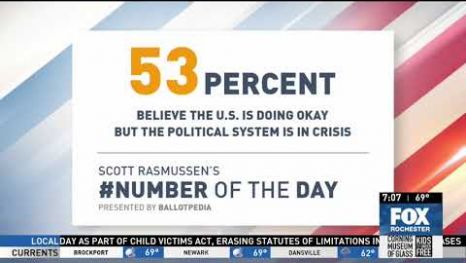 08/14/2019
Number of the Day: 53%
WUHF (Rochester, NY) – Fifty-three percent (53%) of voters nationwide believe that our country is doing okay, but the political system is in crisis.