Abortion is back in the news, an issue considered Very Important by 43% of voters. One of the most discussed aspects of this debate is the future of the Supreme Court Roe v. Wade decision. However, the Court ruling might also be one of the least understood aspects of the law.......

From the moment former Vice President Joe Biden threw his hat in the ring, he has been the dominant front runner in the race for the Democratic Presidential Nomination. That status was confirmed in the most recent ScottRasmussen.com poll of the race showing Biden with 39% of vote and a ......
Scott Rasmussen's Number of the Day
Want more? Check out NOTD on BALLOTPEDIA
Scott's Latest Video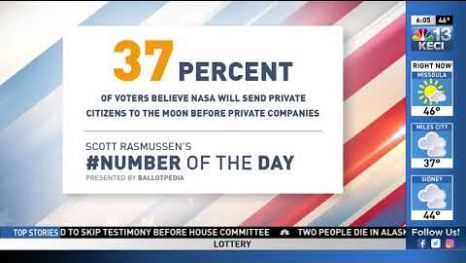 05/21/2019
Number of the Day: 37%
KECI (Missoula, MT) – Thirty-seven percent (37%) of voters believe NASA will send people to the moon before private companies.