Do you plan to watch the upcoming first 2020 Democratic Presidential debate on June 26 and 27? If you're reading this we predict you do. Care to make the experience a little more interesting? Great, we thought so, too.PredictIt, in partnership with Scottrasmussen.com polling, will soon launch a few special ......

Seven-out-of-ten voters rate their health insurance coverage and the medical care they receive as good or excellent. Despite that, only 34% give our nation's health care system positive reviews. Not surprisingly, therefore, health care reform has consistently been a top voter concern election after election. Broadly speaking, voters have two ......
Scott Rasmussen's Number of the Day
Want more? Check out NOTD on BALLOTPEDIA
Scott's Latest Video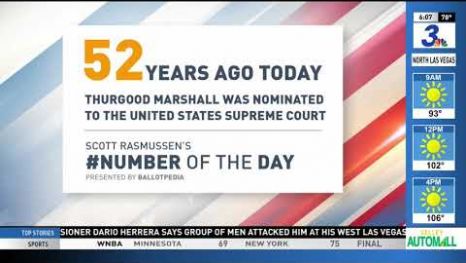 06/13/2019
Number of the Day: 52
KSNV (Las Vegas, NV) – Fifty-two (52) years ago today, Thurgood Marshall became the first African American nominated to the U.S. Supreme Court.