Tomorrow, the U.S. House of Representatives is scheduled to vote on the Raise the Wage Act, which aims to increase the federal minimum wage to $15 an hour. Ahead of this vote, new polling from the Job Creators Network/ScottRasmussen.com Weekly Pulse reveals that only 20 percent of Americans believe ......

It's not clear if President Trump can win the legal battle to include a citizenship question on the 2020 census, but he's already won in the court of public opinion.A ScottRasmussen.com poll found that 73% of voters nationwide believe it is appropriate for the U.S. Census Bureau ......
Scott Rasmussen's Number of the Day
Want more? Check out NOTD on BALLOTPEDIA
Scott's Latest Video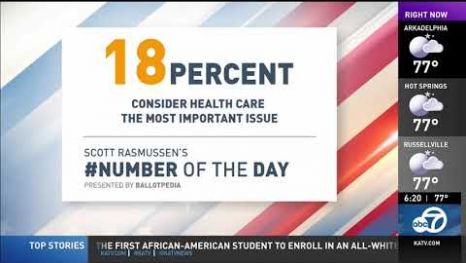 07/17/2019
Number of the Day: 18%
KATV (Little Rock, AR) – Eighteen percent (18%) of voters consider healthcare to be the most important voting issue today.