NOTE: Updated at 1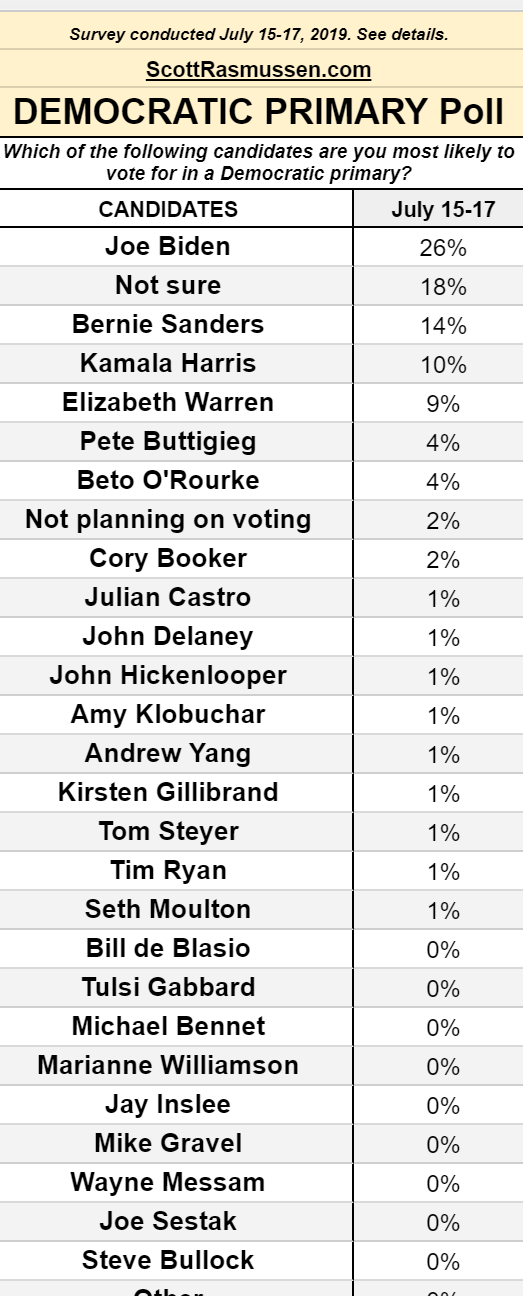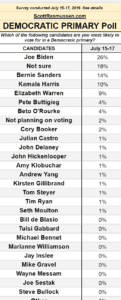 :00 p.m. Eastern on July 18, 2019
The latest ScottRasmussen.com national survey of Democratic voters and Democratic leaning Independents found that former Vice President Joe Biden remains the frontrunner with support from 26%. He is followed by Senator Bernie Sanders at 14%, Senator Kamala Harris at 10%, and Senator Elizabeth Warren at 9%.
Eighteen percent (18%) remain undecided (see full crosstab results for all candidates).
Compared to our poll from a couple of weeks ago, Biden is down two points and Harris is down three. Sanders and Warren have held steady. The number of undecideds is up six.
No other candidate reaches the 5% level of support.
These top four candidates have been the clear leaders in surveys for several months (see topline trends). A few weeks ago, Scott Rasmussen suggested that we may already be down to a four-person race. Head-to-head match-ups among the top four Democrats are all toss-ups.
In addition to leading the polls, Biden has the highest favorability ratings of any Democratic hopeful. He also  leads all Democratic candidates in terms of Social Media support.
ScottRasmussen.com releases new public opinion data every day relating to topics in the news and other items of interest. Please sign up to receive the latest data and insights each day via email.
We provide daily updates on the president's job approval and the generic congressional ballot. We also provide regular updates on the economy, health care, immigration, Congress, ratings of Congressional leaders, Election 2020, the Democratic Primaries, Trust in Government, and which party voters trust on key issues. It's all part of our mission to enhance the public dialogue through data-driven analysis that explores the underlying currents of public opinion (read About Us).
Please follow our work on Twitter, Facebook, and YouTube.
The national survey of 910 Registered Democrats and Democratic Leaning Independents was conducted July 15- 17, 2019 by ScottRasmussen.com and HarrisX, a polling company specializing in online surveys (see Methodology). Results for the full sample have a 3.4 percentage point Margin of Sampling Error with a 95% level of confidence.
Neither Scott Rasmussen nor ScottRasmussen.com has any relationship with Rasmussen Reports® (see About Us).